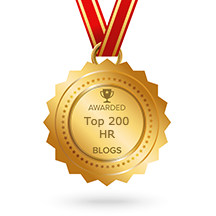 We are proud to announce that we've made it to Feedspot's Top 200 HR Blogs list. These top HR blogs are specially curated for human resource and talent management experts.
In order to make this curated list, each blog has to meet the following;
Contribute thoughtful insights and analysis to the HR industry
Have a loyal readership (thanks to everyone reading this!)
Offer a unique voice and perspective in HR topics
Publish regularly, at least once a month (you can look forward to new posts twice a week)
Blogs included on the list have passed Feedspot's editorial team review, and were found to have consistently high quality writing.
Thank you to all of our readers, who have continued to follow our work. As always, any comments and feedback is appreciated. Just leave a note to let us know about your HR-related questions.